Locally sourced produce
Lyoca's freeze-dried fruit and vegetables are all sourced from Canadian farms
Local
Why do local fruit and vegetables taste so much better? They are cultivated with love and picked at their perfect ripeness. Imported fruit and vegetables are often picked green and can lose 30-50% of their nutrients during travel. Fresh is best!
The great outdoors
Our freeze-dried fruit, vegetables, mixes and meals will have you eating gourmet on all your adventures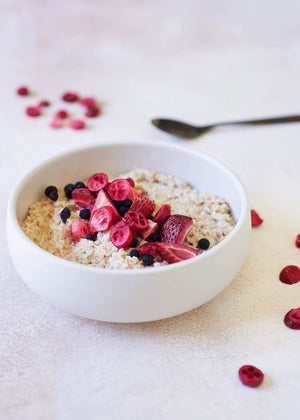 At home
So convenient to have in your pantry! An easy way to add fruit and vegetables to your diet when in a rush. Make your oatmeal pop, add to your soups or eat simply as a healthy snack! Even the pickiest eaters can't resist
Our camping grocery store
We aim to make your camping meal planning experience simple and enjoyable. Our store provides healthy, delicious and sustainable choices. We choose every product carefully, prioritizing local, ethical and clean ingredients.
Shop
Lyoca's Featured collection